You Are Here: Greyghost > Features Page > Motorola WA840G Information

Motorola WA840G Wireless Access Point / Router Information
---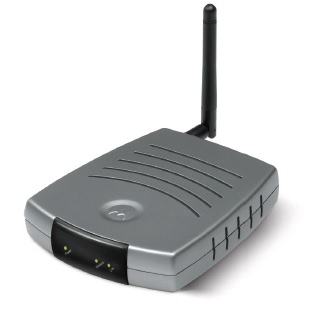 I found this little fellow at an area Salvation Army store. I probably would have left it there, were it not for the 29¢ price tag. (Power adapter not included. After all, you can't have everything for 29¢.) It's capable of operating in two modes: as a NAT router providing a wireless connection to interested clients (all it can do, since there is only the one wired Ethernet port) OR as a wireless access point (to add wireless capability to an existing wired network). Wireless routers that can't be made to run aftermarket firmware are usually of very little interest to me. Here again, one can't expect everything for 29¢ and so it was that I didn't care much if this thing couldn't run DD-WRT or other third party firmware. Maybe it'd be the one wireless router whose stock firmware would buck the trend of being Absolutely Awful.
Instead of listening to opinionated rambling, you probably came here because you too have found one of these and are wondering about support for it. If there is support for the WA840G within DD-WRT, it's not been explicitly called out anywhere (but see below).
Motorola through its various machinations, divisions, and acquisitions has lost (almost, see below) all track of the WA840G. The most likely successor company to Motorola's former networking products division is Arris. Arris has nothing on this product. I figure it has simply slipped through the cracks and been forgotten. Even though I'm sure it was mass produced, I've never seen another.
Firmware 'n Such
What you will most assuredly want to do is uprade to the last firmware release, 6.1.4. This is a

MAJOR

upgrade. It adds serious capability improvements to the WA840G hardware. You can do that right now, with the ZIP archive linked here. In other download related news and stuff: I was initially excited to report that the user's manual had (inexplicably) surfaced at Motorola's website here in March 2016, until I realized that such is also included in the previously linked firmware bundle. Oh well, I downloaded it anyway and so I'm posting that here as well. Maybe you'll find it useful, with my making the assumption that said user's manual is for a previous release of firmware, and in the case where you haven't done as you should and updated your own WA840G's firmware already.
Also present within the ZIP file are a configuration file converter tool, Release Notes and a User's Guide for the hardware. It took me a long time to trace down this firmware, and had it not been for the Internet Archive's Wayback Machine, you'd still be looking for it right now. The Internet Archive hasn't always done well with archiving files that aren't HTML or pertitent to use with HTML (images, style sheets, scripts, etc.).

Yes, this means that even if you would never donate to anything or anyone on the Internet, you really should support the Internet Archive with a

donation

.
These files are provided as a courtesy to owners of the Motorola WA840G hardware. They do not apply to other devices. Updating the firmware on any device entails risk, and you accept ALL the risks for the results of your actions. I provide these files in good faith and the hope that they will be useful, while disclaiming all liability for the results of their use. If you can't accept that, don't use the files.
Copyright is a hairy subject and while its meaning has been perverted over the years, I believe it qualifies as "fair use" to provide these files to rightful owners of the Motorola WA840G hardware. The rights to these files obviously still remain with Motorola or its successor companies.
I hope to flesh this page out at some point in the future with more details about the hardware, firmware and other little bits that might be good to know. Until then, maybe you'll find this page useful in its current, incomplete state.



DD-WRT



In its latest firmware revision, the WA840's firmware bears one interesting similarity to DD-WRT. When challenged for a user name and password, cancel the request. Note the unique pinkish colored failure screen, identical to that seen in DD-WRT. Did Motorola base the WA840G's last firmware release on DD-WRT? I don't know, but it seems plausible enough.

Whether or not the WA840G can actually run DD-WRT is rather less clear. A WE800G that is said to be identical hardware and a WR850G are supported by DD-WRT. I spent some time diddling around with it, and while I didn't try very hard, I didn't get it to pop by uploading even the special "initial flash" build through the web interface. Forcing the firmware into place with TFTP as the WA840G boots may prove more successful, or it might end up in tears. There are differences in NVRAM layout between the Motorola firmware and DD-WRT.

I don't know if any other third party router firmware projects support the WA840G.

As the WA840G keels over after a period of time even with the latest firmware installed, perhaps I'll revisit this highly exciting subject. There is, after all, only so much time that's worth spending on such ancient hardware.

As further proof that you definitely don't get everything for 29¢, my WA840G keeled over after a few years of fairly reliable service. Perhaps that, and the obsolescence of 802.11g, would explain the lack of WA840G units still around.

---
Go Back
>
Page and original text Copyright © 2015-2016 William R. Walsh. Some rights reserved. Permission is granted to reproduce this page in whole or part subject to terms and conditions located elsewhere on this system. Please read these before reusing this material! Software and files linked from this page are Copyright © 2005 Motorola Corporation. It is believed that distribution of these files to rightful owners of such hardware is well within the boundaries of fair use exceptions to copyright law. Created 07/06/2015, updated 03/07/2016, 07/11/2016, 12/10/2016. All material on this page is presented in good faith and to be used AT YOUR OWN RISK only.