Variation On Rob Cockerham's Instant Outlet
---
Before doing too much here, have a look at this.

I read Rob Cockerham's web site regularly and oftentimes get a laugh or two out of the funny projects he does. One such project is his Instant Outlet...a realistic looking printout of an outlet. He sells them for $1 (+ 35¢ if you use PayPal) a copy. This is not a bad deal for a decorative object that you can put anywhere and get some real double-takes out of. I really gave some serious thought to buying some.

Trouble is, I'm cheap. Too cheap to revive my PayPal account and too lazy to get a money order to pay for some of these. But that's not why I copied his project. The outlets he has available for sale are the three pin grounded type. In a house as old as the one I'm living in, such an outlet could look very much out of place, especially since a lot of the outlets here are still the old two prong type. The mismatched outlets could get those nosy electrical inspectors to come around and make sure (BZZT!) that everything is wired up to code.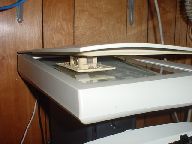 I was also curious as to how Mr. Cockerham might have made his outlets, so I grabbed an old two pin outlet and popped it into a plate. Then I threw the whole thing on to my ScanJet 3300C and had at it. After a few tries to get it positioned properly, I had my outlet! I sent the image to my printer and cut it out with a rather dull pair of scissors, which is why the edges are so rough. It doesn't look too bad considering that I used dull scissors and ordinary copy paper to do it.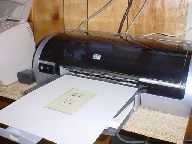 It looked great and I was instantly empowered!

Next up is the Instant Outlet Adapter for those times when you have a three pin plug and a two pin outlet!




Of course, after making my outlet, I just had to take some pictures of it in crazy places.Those are here. Next up is to make another on better (photo) paper, cut it with a flat paper cutter, and take it to work to see who gets the joke or if anyone notices it at all.
---
Go Back>

Copyright ©2005 by Walsh Computer Technology. All Rights Reserved.