Image Adapter/A Printer and Scanner Daughtercard
---
This is not yet finished...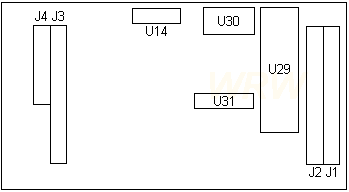 U14 75X8841
U29 Zilog Z85C3010PSC (Serial Communications Controller)
U30 10.00MHz
U31 37F9937
J1,2,3,4 Male connectors for attachment to Image Adapter/A
---
Go Back>

Copyright © 2006 by William R. Walsh. All Rights Reserved. This page may be reproduced freely in its original form with all copyright noticies present and unaltered as long as no charge is assessed for providing this information, other than reasonable charges for duplicating, media cost, or connection/access time.