You Are Here: Greyghost > Vehicles Page > 2003 Chevrolet S10


a 2003 Chevrolet S-10 Pickup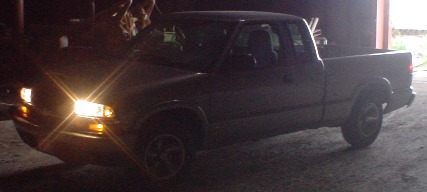 ---
On April 17th, 2013, I made the decision to trade my "truckling" in for a used 2007 Chevrolet Silverado Classic 4X4 truck. I bought the S10 brand new in early November of 2002 when I was just 19 years old. As of this writing, it's the only vehicle I've ever purchased brand new. I drove it to just around 101,500 miles between then and when I traded it off. I always swore that I'd drive this truck until it was worn out...

Although I liked this truck a lot, and the powertrain was generally reliable, it was plagued by electrical and trim problems. The truck had started to have many stupid "nickel and dime" sorts of problems, but it was failure of the in-tank fuel pump that ultimately drove me to trade it off. I often joked that this truck had been assembled on a Friday. In all seriousness, though, my only lasting complaint was its extremely poor performance on even modestly difficult terrain.
Though this page has been updated, you can still look at the original. This information will remain online, but it will not be updated beyond basic housekeeping and site design needs. Any outside links you find in these pages may have gone bad, so use caution before following them.
---
Go Back>

Copyright 2002-2013 William R. Walsh. All Rights Reserved.